New Patients
Central Texas Chiropractic & Rehab is a comfortable, relaxing place for people of all ages. Our approachable team is waiting to warmly welcome you. With bilingual staff, we can accommodate Spanish speakers, too. We look forward to meeting you!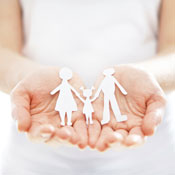 Getting Started
The paperwork you'll need to fill out can be downloaded from our website and brought in with you completed. If you have insurance, we'll check your coverage when you arrive and let you know what applies to your visits. Then, you'll be taken back for a comprehensive examination and consultation with Dr. Julie or Dr. Hollis. If needed, we'll take X-rays on-site and go over them with you.
If you decide to move forward, you'll be adjusted on this visit. We'll send you home with supportive care such as exercises, stretches or icing instructions to complete before your next visit.
Following Up
When you return for subsequent appointments, we'll check your progress and make any changes to your treatments as needed.
We offer convenient Saturday appointments. Book your time with our friendly team today!
---
New Patients | Central Texas Chiropractic & Rehab | (512) 989-7477